Here at Accent, we take pride in designing and building long-lasting wood kitchen cabinets. All of our cabinets are formaldehyde and lead-free because we only use 100% solid oak wood. For extreme functionality with beautiful style and design, let us build your new kitchen cabinetry. Our designers will create custom cabinets for you or you can choose from one of our previous styles. Call our studio to schedule a free consultation and learn just how many options are available.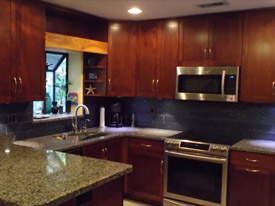 We'll come to your home for a free consultation
Transform your kitchen today!
(727) 522-2700
Wood Kitchen Cabinets
There's no harder working wood furniture in your home than the kitchen cabinets. The constant daily use puts a strain on cheap cabinetry materials. Our kitchen cabinets are 100% solid oak wood and truly stand the test of time. From stain to paint, style and embellishments, you can customize absolutely everything. We also remove and dispose of all your old wood cabinets when we arrive for the installation.
We can design storage solutions for your specific needs, or you are welcome to choose from some of our previous designs. You are in total control when it comes to designing your new kitchen cabinets. From the size, style, and stain to the hardware, you get to choose what suits your tastes best. Whether you are looking for a clean, modern look or a more traditional style, we will bring your dream to reality.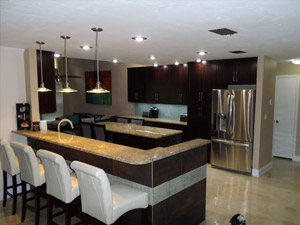 Custom Kitchen Cabinet Design/Build
The best part of opting for custom made kitchen cabinets is the unique touches you can add. If you'd like to add under-cabinet lighting or a glass front on your cabinets, we can do it. We love to collaborate with our clients to create functional and great looking wood cabinetry within a budget that works for you. Let us help optimize your kitchen layout and transform the busiest room in your home today.
Custom cabinets offer the opportunity to add innovative design and modern touches to your kitchen. At your free consultation, we will review your storage needs, design ideas, and your hopes for the kitchen. Our goal is to create the perfect wood cabinetry for your kitchen. We can add in adjustable shelves or pullout shelves for even more convenience.
There's nothing more frustrating than having to hunt in the back of deep cabinets for the pot or pan that you need! With our unique designs, we can eliminate every storage issue your old cabinets have. Call our studio today to get started designing your new kitchen cabinets!
Locally owned and operated
Call to schedule your consultation
(727) 522-2700
We custom build and install kitchen cabinets in St Petersburg, Tampa, or any city in Pinellas, Hillsborough or Pasco County.