Our solid wood guitar cabinets are a great idea if you need a solution for preserving your instruments that still allows for easy access. Our guitar cabinetry comes in standard sizes, or a custom size that suits your needs best. We construct each piece in our local studio. All work is done in-house by our skilled craftsman. If you'd like to learn more about our custom guitar cabinets, contact us today.
Custom built solid wood guitar cabinets
Call today for your free estimate
(727) 522-2700
Wood Guitar Cabinet
Our wood guitar cabinets are a great way to store your guitars when you aren't using them. We build units that hold anywhere from one to ten instruments. The dimensions and positioning are up to you. We only use solid oak wood to construct all of our custom furniture. We never use wood treated with formaldehyde or lead. And you will never find any particle board in our studio.
Using cheap materials to build furniture results in a finished product that looks cheap. Stop by today if you'd like to see some of our previous guitar cabinet designs. If you'd like a different style, then we'll work with you to custom design the perfect piece.
We offer free consultations and estimates for all of our American-made wood furniture. At your consultation, we'll discuss your requirements for the guitar cabinet. Next, our consultants will also go over all of the customizable details from hardware to trim. Once we have all the details, our crew will work hard to bring your dream cabinet into reality.
Most custom cabinets take about two to four weeks to finish depending on our workload and the size. After we've completed your new cabinet, will call you to schedule delivery and installation. Call our studio today to schedule your free consultation.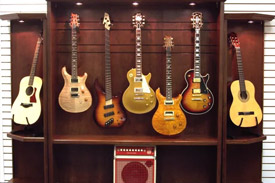 Custom Made Guitar Cabinet
Proper storage is the best way to prolong the life of any wood instrument. Our custom made guitar cabinets are a perfect choice for your most prized instruments. At your consultation will discuss the size of the cabinet, hardware, and the finish. We also have numerous hardware choices for you to chose from, or if you have something specific you'd like us to use, we'd be happy to use it. We can even hang the door on either side of your cabinet.
Guitar cabinets help to protect the quality of the instrument itself. When you opt to have a guitar cabinet custom-made, you control all the details, including the overall style. Our skilled craftsman can build a piece that has a classic, vintage, modern, or contemporary style. If you have seen other wood cabinets and would like us to model yours after them, just bring in the photos to your consultation. You will be thrilled with the finished piece! Simply call us today to get started.
You make the music, we'll deliver the cabinet
Attractive and functional
(727) 522-2700
If you are searching for solid wood guitar cabinets in St Petersburg, Tampa, or any city in Pinellas, Hillsborough or Pasco County, call us today!