From traditional to modern, Accent Woodworking will create kitchen cabinets and furniture with a human touch to enhance the beauty of your home. Our cabinets are made on the premises - locally owned and operated in Largo, Florida, we have been serving the Tampa Bay and the greater Central Florida area for 25 years. We take pride in designing and building long-lasting wood kitchen cabinets. All of our cabinets are formaldehyde and lead-free because we only use 100% real wood. Our designers will create custom cabinets for you or you can choose from one of our previous styles. Call our studio to schedule a free consultation and learn just how many options are available. When you make a purchase with us, you are buying directly from an American manufacturer. All our products are made in the USA. You Ask! We Build!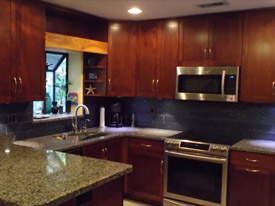 We'll come to your home for a free consultation
Transform your kitchen today!
(727) 522-2700
Wood Kitchen Cabinets
There's no harder working wood furniture in your home than the kitchen cabinets. The constant daily use puts a strain on cheap cabinetry materials. Our kitchen cabinets are 100% solid wood and truly stand the test of time. From stain to paint, style and embellishments, you can customize absolutely everything. We also remove and dispose of all your old wood cabinets when we arrive for the installation.
We can design storage solutions for your specific needs, or you are welcome to choose from some of our previous designs. You are in total control when it comes to designing your new kitchen cabinets. From the size, style, and stain to the hardware, you get to choose what suits your tastes best. Whether you are looking for a clean, modern look or a more traditional style, we will bring your dream to reality. Our kitchen photo gallery shows a small sample of our work.
Custom Kitchen Cabinet Design + Build
What is the best wood to use for kitchen cabinets? Red Oak, White Oak and Maple. The best wood is the one that appeals to you - your personal preferences and budget. We only use wood that is durable and well-suited for cabinet making. You choose the type of wood and color you like.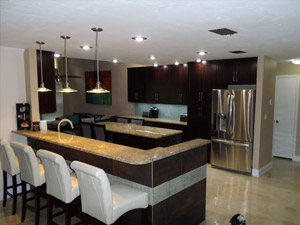 The best part of opting for custom-made kitchen cabinets is the unique touches you can add. If you'd like to add under-cabinet lighting or a glass front on your cabinets, we can do it. We love to collaborate with our clients to create functional and great-looking wood cabinetry within a budget that works for you. Let us help optimize your kitchen layout and transform the busiest room in your home today.
Custom cabinets offer the opportunity to add innovative design and modern touches to your kitchen. At your free consultation, we will review your storage needs, design ideas, and your hopes for the kitchen. Our goal is to create the perfect wood cabinetry for your kitchen. For extreme functionality with beautiful style and design, let us build your new kitchen cabinetry.
Kitchen Cabinet Options, Add-Ons and Pantries
There's nothing more frustrating than having to hunt in the back of deep cabinets for the pots or pans that you need! At Accent, we offer cabinet add-ons and pantries. Sometimes you don't need a new kitchen, you just need help with organizing. With our unique designs, we can eliminate the storage issue your old cabinets have. We can add in adjustable shelves or pullout shelves for even more convenience.
Color Match / Style Match - Real Wood
We will match the style and color as close as possible. Whether you want us to match or complement or create a contrasting color we can help bring this vision to life for you. Call our showroom today to get started designing your new kitchen cabinets! To view our full line, please visit our photo gallery and Pinterest boards.
Locally owned and operated
Call to schedule your consultation
(727) 522-2700
We design, deliver and install custom-made wood Kitchen Cabinets in all Central Florida areas including – St Petersburg and all of Pinellas County, Tampa, and all of Hillsborough County, Manatee, Pasco, Polk and Sarasota Counties. Call us today!
FAQs for Cabinets:
Can you tell me how the process works?
Give us a call. If you have the information we need, it may be possible to offer you an estimate by email or phone.
Otherwise, the first step is to set up a time to meet at your property, so we can take measurements and discuss design ideas. We then provide you with a free estimate within 12-24 hours. Simple and basic designs can be given at the time of measuring.
Can I see a drawing of my new cabinetry?
Yes. Once we have pricing approval we will create computer renderings of the layout and design and email them to you for your review.
Can I install my own cabinets?
If you are considering installing the cabinets yourself but have never installed cabinetry before, it is not recommended. Most experienced carpenters can easily install these cabinets.
Do you provide Handles/Knobs?
Yes, we have a limited standard selection. There are a variety of options at an upgraded cost.
Do you offer Dovetail Drawers?
No. Although Dovetail style drawers are aesthetically pleasing, they do not promise long term durability. In fact, some of our clients have asked us about replacing some of their old cabinetry dovetail drawers where the joints have wiggled loose.
How-Tos for Cabinetry:
How do I care for my cabinets?
Below is a link to detailed information about care and cleaning for your wood cabinets and furniture:
How do I adjust the door hinges?
Here is an illustrated explanation for adjusting door hinges. Check out wikiHow for in depth instructions on How to Adjust Euro Style Cabinet Hinges
FAQs for Appliances:
Do we need to have all of the appliances before you build the cabinets?
If you are planning on purchasing the "typical" size residential appliances (sizes listed below), we can build the cabinets before you purchase all your appliances but would like the specs to be provided to us prior to laying out the job for production.
If your appliances are different from the sizes listed below or they are built into the cabinetry, then we would need the make and model numbers to access the manufacturers' installation and cut-out specifications. Please also let us know of any atypical design needs for appliances. For example, Farmer/Apron Sinks, Down-Draft venting, decorative trim kits, panel-ready dishwashers or refrigerators, etc.
Standard Size Appliances
Refrigerator - fits in an opening of 36 1/2" Wide by 72" High.
Slide-In Range - 30" Wide.
Dishwasher - 24" Wide.
Microwave Hood - 30" Wide by 16" High.
FAQs - Other:
What is your turn-around time?
Our production time is normally 3-6 weeks, depending on the size of the job(s). The more customized and unique projects may take longer.
How does payment work?
Once all the details have been worked out, we have a small contract and require a deposit of 50% of the total. The balance is due upon delivery and installation. Or we take payment in thirds. (Ask for details)